We will explore the negative mental models that create anxiety, depression, anger, PTSD, sadness, disassociation, and triggers. In this 6 week program, you will learn how to create a life where you are not a victim of your past trauma, but the architect of your future.


Let go of being a victim and step into your full power
Break down barriers to happiness and start living a meaningful life
Take control of triggers and flashbacks to feel empowered in the present moment
Become action-oriented, insanely productive, and unafraid of failure
Learn grounding mindfulness practices to feel at home in your body
Define your deepest, heart-warming values and goals
Use your trauma as fuel for post-traumatic growth and connect with a higher purpose
Class Curriculum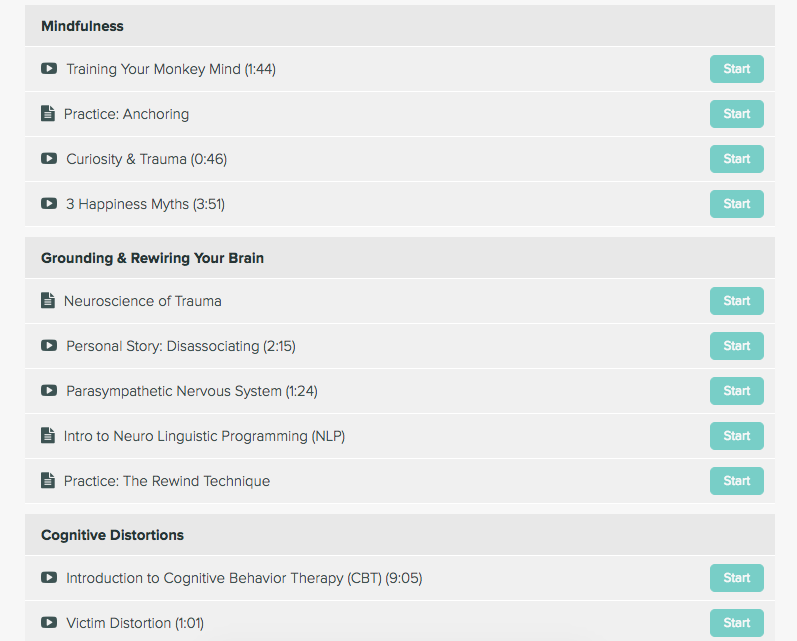 Is this course for me?
You are a nerd. You love learning, you constantly want to improve yourself and are ready to let go of your limiting beliefs.
You want to find your tribe. You are ready to meet other women from around the world who want to support each others power and voice.
You like games. Our community is hosted on Habitica, a platform to gamify your life. It is fully anonymous, extremely fun, and will help you level up your life in a whole new way. We will track our daily habits, tasks, and productivity here.
You want to make the world a better place. We are going to turn your pain into gold. Learn how to master Traumatic Alchemy and experience post-traumatic growth.
You have a support system. I do not recommend taking this course without any complimentary mental health care services. This could be therapy, a supportive partner, or friends you can talk with along the way. If you are going to start therapy to begin this course, I personally recommend any Cognitive Therapist or Mindfulness based therapists.
Your mental health is stable. If you think of your mental health on a scale from 1-10, with 1 being suicidal- this is for women who are at about a 4 and up. If you are having suicidal thoughts please contact the Suicide Hotline or a mental health professional in your community as soon as possible.
Your Instructor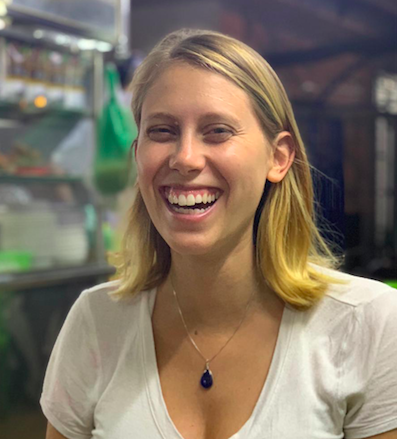 Nicole is currently pursuing an Executive Program in Social Impact Strategy: Ending Violence & Abuse in Relationships at University of Pennsylvania. A serial entrepreneur at heart, Nicole founded her first company when she was 18 and won the Alibaba Women Empowerment Award. Her most recent program was creating The GirlCode Program, an all girls coding program designed to create a world where girls and women have the tools, confidence, and community to shatter the glass ceiling. Inspired by the power of computational thinking, Nicole created this course to help women live a powerful life.
My Story
A man raped me 4 years ago. I approached trauma like a science experiment. My hypothesis: I can heal myself if I study hard enough. My goal was to spend least amount of time and money for the most efficient result. Books were a great free option, I rented tons from my New York Public Library. I read "Healing Trauma", "Girls and Sex", "The Body Keeps Score", "Furiously Happy", "The Gift of Fear", "Eat. Pray. Love", "Pussy", "Slow Sex", an array of Thich Nhat Hanh, Brene Brown, Tara Brach, Jack Kornfield and more. I took an online Australian Cognitive Behavior Therapy course called MoodGym. I went to a crystal healer in Bali. I did the Landmark Forum, a transformational education course. I tried art therapy, Gestalt therapy, psychotherapy, CBT therapy, Mindfulness Based Therapy, and movement therapy. I discovered the Alexander Technique. I became a vegetarian. I danced 5Rhythms, salsa, and bachata. I stopped shopping for 30 days. I started swimming and rock climbing. I got my tarot cards read. I went to the south of France to meditate for 2 weeks at the monastery Thich Nhat Hanh started. I became Reiki Level 1 certified. I got rid of 80% of my wardrobe and wear 33 items every season. I live a Zero Waste lifestyle. I left New York and am currently traveling the world as a digital nomad.


My experiment was intense. My friends, family, and partners were incredibly supportive along the way. Through the highs and lows, they surprised me with scavenger hunts, brought me Reese's Peanut Butter cups, built pillow forts for the winter, helped me become stronger at rock climbing, and ate copious amounts of Thai food. They made those 4 years filled with so much vibrancy, even when I wanted it to be dull. At times, I wanted to study alone. To push everyone out and quarantine myself in depression. These wonderful humans wouldn't stand for that, and stood by my side in the journey. I am forever grateful for their continued love in my life.


I valued transparency. I shared with new and old friends what had happened and where I was at in my experiment. There were always new updates. I am a very focused student. I was not only a student of healing, but a co-founder of an after school program for kids to learn how to code and foster critical thinking skills. We grew from 6 kids a week to 500 kids per week. I started an all girls coding program within it, which became a great success. My co-founders supported my science experiment and allowed me to have a flexible schedule. I was able to balance work and prioritize my mental health. I could leave work to take 1pm therapy sessions and 5pm sexual assault support groups. I could take Friday off when I did Landmark. I worked remotely for 3 weeks and traveled to Thailand with my boyfriend of the time. I talked to my coworkers about what I was learning and felt love and support.

I consider my experiment a success. My mixture of methodologies and approximately 4 years time have resulted in living a life free from my rape. My main gripe is that through all this research, I did not find a single book or course that spoke specifically to me. The books I read were titled with words like "healing," "trauma," "surviving," and "overcoming." If they were more playful and spoke about how I was in control of my story, they didn't speak about rape. I wanted a course that would tell me I could live a powerful life, regardless of having rape in my past. That this didn't make me a victim or a survivor. I wanted a course that would tell me my life was just getting started. That my future could be free from my past trauma and that one night wouldn't haunt me for the rest of my life. But I couldn't find that course. So I created it.


It's called Post Traumatic Growth. This course is for for my fellow nerds, researchers, and experimenters. Hopefully this can cut down on your experiment time.


I am going to tell you some things that you haven't read in other books or courses. They might shock you or feel like an attack to your identity as a woman who has been raped or experienced trauma, but they are going to change the way you think about these experiences for the rest of your life. This is not a course on healing. I believe you already are in a state of wellbeing, you just need to rediscover it.


For the first 2 years after a man raped me, I thought it was the worst thing that could ever happen to me. That it would destroy my life forever. That rape breaks women down. That 1 in 4 women are victims. Today, I don't believe that being raped is life-changing. I don't condone rape. I am committed to preventing rape from occurring and believe that modeling healthy masculinity is a great place to start shifting that for future generations. That the #MeToo movement is breaking the stigma. But I don't believe that because you were raped your life has to take a downward spiral in which you need to recover. In fact, I think the opposite is possible. I think that starting today, you can decide that your life is going to be badass. That you can live a life free from your rape and encourage every woman around you to do the same. This course is going show you what it is like to be anti-fragile. To be someone who become stronger when they are attacked. You have the choice on what your life looks like. The man who raped you does not.


In this course, I will be speaking from my experience. I am not saying that everything I have done will work perfectly for your world, but these strategies, frameworks, and techniques have allowed me to feel a sense of freedom, purpose, and security in my daily life.


For this course I am going to speaking mainly to the female voice and primarily about my experience with rape. However, the concepts written in here are universal and inclusive. A lot of the content applies to much more than rape. If you have encountered childhood abuse, sexual harassment, or any sort of physical or mental trauma in your lifetime, there is plenty which I hope will resonate for you in here. If you have friends who have experienced these things, this course will coach you on how to empathize, understand and support your friends. If none of those things are true and you somehow still ended up in it, that's great as well! Feel free to sub out the word rape with work, or relationship, or whatever you want to put in your past. The techniques are universal and can help you become a master creative alchemist out of any situation that is weighing you down.


It was not in your control that you were raped. It happened and it is not your fault. It is your control if you decide to be a victim for the rest of your life. That doesn't have to happen. Through years of practice, I learned how to not live as a victim. My goal is to save you those years, so you can get started today. I have been able to put my rape in the past, and create a future I love. I hope with all my heart this course helps you do the same. I love you.
Frequently Asked Questions
When does the course start and finish?
This course will go live after 10 students are enrolled. Each cohort is admitted on a rolling bases. The estimated start date for the next cohort will be Mid February. I recommend you give yourself 6 weeks to complete the program to give each module it's own week. However, It is a completely self-paced online course - you decide when you start and when you finish.
How long do I have access to the course?
How does lifetime access sound? After enrolling, you have unlimited access to this course for as long as you like - across any and all devices you own.
What if I am unhappy with the course?
We would never want you to be unhappy! If you are unsatisfied with your purchase, contact us in the first 30 days and we will give you a full refund.